Details for DUFF Hannah Patten
---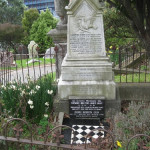 ID Number102010
NameDUFF Hannah Patten
Family NameDUFF
Plot96.K
CemeteryPublic
StatusExisting Grave
Location on the Modern Grid MapM10 03
Inscription on TombstoneSacred to memory of Hannah DUFF, d. 21 December 1876, aged 1 year & 9 months. Agnes W.DUFF, d.22 December 1876, aged 8 years & 4 months. Margaret M.DUFF, d. 28 December 1876, aged 10 years & 3 months. John DUFF, d. 31 December 1876, aged 11 years & 10 months. Edith DUFF, d. 1 January 1877, aged 6 years. John Duff, father of the above, d. 9 September 1899, a. 66. Sarah DUFF, wife and mother of the above, born 28 August 1838, d. 10 April 1912. (-Helyer-).
Description of GraveThe grave has ironwork surrounds and a tiled surface. A beautiful white marble memorial with ornate sculpture. Lead lettering and added plaques.
Date of Death or Burial*21 Dec, 1876
Public Cemetery Register Number
Type of Record Burial
Age1 year 9 months
SexFemale
BiographyHannah was the infant daughter of Sarah and John DUFF. Five DUFF children died tragically of diphtheria within 11 days. Note the more recent memorial plaques for well known City Councillor Stewart DUFF, who died in 1980, and his wife Roberta.