Tours & Maps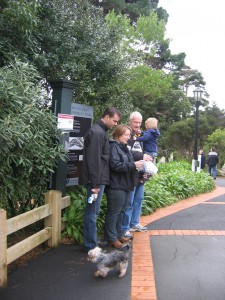 Plan your tour of the Bolton Cemetery from the following options:
Shows paths and locates important graves in the cemetery with information about the graves.
Instructions on Locating a Gravestone within the Bolton Street Cemetery.
Shows the position of Bolton Street Cemetery in Wellington.
Ministry of Works and Development map showing the original allocation of land for the three cemeteries and subsequent changes before the construction of the motorway.
Public Tours
Public tours are occasionally organised by the Friends, usually in connection with other events such as the Botanic Garden Spring Festival. These are advertised in newspapers and other publications and anyone is welcome to join them.
For more information and details of a specific tour, please contact us.
The Friends are happy to arrange tours for school groups. Our quiz based tour emphasises historical aspects of the Cemetery. For more information please contact us.
Personally guided tour
To arrange a guided tour for your group please contact us.